Many times I've heard it said that anger hides a multitude of other emotions. If someone is really angry with you, then maybe underneath there's an underlying feeling that's prompting them to act angrily. Are they scared? Sad? Disappointed?
Normally I am a person who prefers to see life through the lens of the silver lining. Every cloud has one, or so they say, and I can usually find it. Optimism is great! It's a lot more fun than being bummed out over things you can't fix.
But today I ran into something that I haven't been able to shake off, and I haven't been able to find a silver lining for yet. Well, that's not true; I found one, but it's lame, haha.
Without going into too much detail, because it's work related and I shouldn't share the whole story for all the internet to read…. Earlier this week I was offered a really cool opportunity. It carried with it this sense of accomplishment and a feeling that the things I have to say in my field are valuable and important, and that what I'm doing on a daily basis has meaning. It might have puffed me up a bit, made me feel pretty great, all that jazz. I was invited to come sit at the table with a discussion group across several different regions who would be able to have conversations about how best to support the particular groups of kids we all work with.
But, rather sadly, today I found out that due to there being a number of people going from my work already, my voice wasn't needed, and it's been decided for me that I cannot attend.
The situation itself is not what I'm here to talk about though — because, as I mentioned, I can't really do that without spilling all kinds of details that I shouldn't. I'm here because all day, what's been spinning around in the processing centre in my brain, is the range of emotions that that's evoked in me, and what that means.
I've been waffling all day between angry — at the people who get to make decisions, at the situation itself, sometimes at myself — and sad and disappointed. I think that the biggest place I've camped though has been disappointment.
It's a funny thing… Intellectually, I can reason my way through this. I can understand the reasoning I was given. I can logically work my way into accepting it, and be ok with the outcome. I can tell myself that I know my voice has value in my workplace because most of the time I feel like that's true. I've been told that that's true. But it doesn't seem to matter how often you intellectually reason your way through something — sometimes you just have to ride out your disappointment.
The reality is that I'll probably be fine tomorrow. The opportunity will pass on Tuesday, and I'll live to tell the tale. I'll probably even be fine in a couple hours. I have band practice tonight, and that always cheers me up. I won't end up bitter, and it's not something I'm going to end up holding against anyone. It's just that… normally I can shake my way into a "no, it's fine because ______" but today it feels appropriate to sit with my disappointment, acknowledge its presence, and tell myself it's completely reasonable to feel this way. One doesn't always need to be chipper and excited about ALL THE THINGS (this is a hard lesson for the Enneagram 7, 🙂 )
I've been learning that when something nags at me, and it feels like I need to write about it, often that means someone else needs to read it. So I'm trying not to ignore that and push away the "I should blog this" impulse. So here I am.
My takeaway from this experience is this: Big emotions can be hard. And the bigger they are, the deeper they…. I can't think of a word I want to use for this…. the deeper they burn? sting? echo? resonate? I don't know. I'll think of it at 3:15 am. But when they're big, and they're hard, and in this case… when they tempt you to feel like you don't bring a valuable skill set to the table and aren't really needed, it's best to acknowledge them rather than run for something fun to do to distract yourself from them. If I were to run off and find a distraction right now, Tuesday will still come. The difference will be that I won't have processed my disappointment. I won't have reassured myself that what I do IS valuable. I won't have taken the time to recognize that this feeling is important and meaningful. And then I'll just have to do it on Tuesday, lest it follow me into Wednesday and beyond.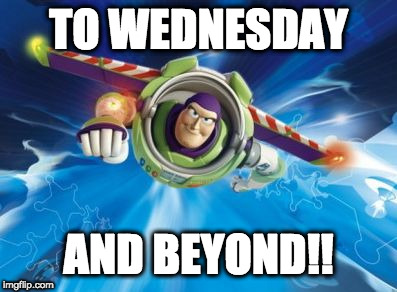 So, silly meme to lighten the mood aside, tonight I will process. I'll probably journal where I can actually talk about the details, and I might even cry it out. But I will live to tell the tale. Because I can take the time to process the hurt and the sadness, I'll be able to be chipper when I'm done. And that's pretty cool 🙂